OUR STORY
Born and harvested within the beautiful and exotic location of Waghi Valley, Papua New Guinea, and roasted to sheer perfection on site in Mt Hagen, "Banz Kofi" is like no other coffee in the world. From the first to the very last sip, you will be amazed at both the complexity and smoothness of the flavors within, and find yourself feeling at peace, refreshed, and satisfied. It is only after you have tasted Banz Kofi that you can truly understand why it is called "The King of Beans".
Our altruistic mission is simple: To bring coffee lovers a divine coffee experience by creating the purest and the most premium coffee beans in the world. We begin with hand selecting the best coffee cherry in the coveted Waghi Valley (situated in the Mount Hagen region), where the beans are grown and cultivated at an extremely high altitude that exceeds 4,000 feet, in the perfect temperature and humidity levels. The finest coffee has to go through the most precise process, beginning with the passionate farmer using traditional methods, continuing with the experienced coffee cherry procurer, moving on to the talented roaster, and ending with the craftsmanship of a perfectionist barista.
We develop complex flavors that are robust in flavor yet maintain a sense of delicacy that lacks the acidity that ruins the vast majority of coffee brands saturating the marketplace today.
So please let us share the most natural, flavoursome and exclusive beans in the world with you. We are coffee aficionados who are passionate about what we do and love the fact that we can bring pleasure to so many people throughout the world with what we have created.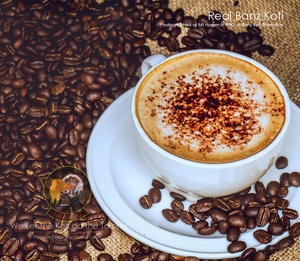 OUR BIRTHPLACE - PAPUA NEW GUINEA
Our premium Arabica coffee cherries are grown in the Waghi Valley Region in the Western Highlands Province of Papua New Guinea, and is processed, roasted and packed in our factory located a few kilometres away in Mount Hagen - the heart of the coffee-growing region in the Central Highlands. We specialize in naturally grown and perfectly roasted Arabica coffee.